It is that time again, ladies and gentlemen, for yet another news update.  I have alot to get through, so let us get started.
Now until recently, I have not been a fan of the Guitar Hero series, and I'll briefly tell you why.  It is not because I hate the price of the game, the songs, or the boss battles.  It is simply for the fact that I was timid to step into this new genre of gaming.  When I did eventually get a chance to play this rockin' title, I found out how much fun I was missing out on. 
After sitting around this weekend looking for a story to write about, something caught my eye that I could not let get away.  I have found out from articles posted on filefront.com, and on gamerevolution.com, that the first Guitar Hero to be released for the Wii will include online play.  It will not however, include Downloadable Content at this time.  For what reason I am not sure of, but here is what a representative from Red Octane had to say about it.
"There will, in fact, be Online gameplay for the Wii when Guitar Hero III: Legends of Rock launches in late October.  However, there will not be Downloadable content available on the Wii at launch. That, we are still working with Nintendo on."
DLC or no, I'm still excited to see how this game will do on the Wii.
After looking through some articles on gamespot.com the other day, I found out some more interesting info about this game.  One of these articles talked about the bosses that we will face in Guitar Hero III.  Here is a short list:

1. Bret Michaels, lead singer from Poison: You face him in the second boss battle in the game.

2. Tom Morello, lead guitarist from Rage Against The Machine: He is the third boss that you will face in the game.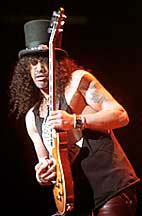 3. Slash, lead guitarist from Guns n' Roses: Not sure which boss fight he is, but it is said that he will be a part of the rhythm game for Guitar Hero III.
Redoctane.com has info about the prices for the bundles for each system, and also about what extra items are included in these bundles.  Both the Xbox 360 and PS3 bundles will be priced at $109.99, and the Wii Bundle will be priced at $99.99.  And here is a list of what each bundle includes (other than the game and the guitar, which is wireless):
1. Custom faceplate
2. Dual Gig Bag: Not sure what this means
3. T-shirt
4. Custom 2″ wide strap
5. Keychain
6. Sticker Pack
For more info on these bundles, visit redoctane.com.  I cannot wait for this game to come out so I can rock out with the best of them.  Until next time, take care gamers, and ROCK ON!
B4
Links to articles:
http://www.gamespot.com/news/6178075.html
http://news.filefront.com/guitar-hero-iii-online-play-confirmed-for-wii/#comments
http://www.gamerevolution.com/news/view.php?id=3179