Game Review: Stuntman: Ignition
Release: September 17, 2007
Genre: Racing/Action
Developer: Paradigm Entertainment
Platform: Playstation 2, Playstation 3, Xbox 360
Player(s): 1-2(offline) 1-8 (online)
MSRP: 19.99 (Gamestop.com)
ESRB Rating: T (Drug Reference, Mild Language, Suggestive Themes, Violence)
Welcome to Stuntman: Ignition. I am not positive that many of will remember the first game simply called Stuntman. I do remember it though and remember it is way more difficult than this version. Having play through the game and getting hooked on the concept of everything must be perfect I found it hard to find time to write this review.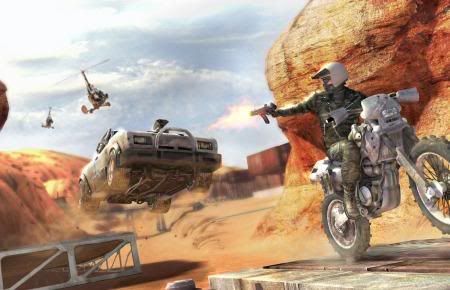 GRAPHICS: A
When you first throw in the game, you see something. There is plenty of shine and polish. Every movie has a total of six scenes, all of them look great and are interesting as you will travel to places you have gone over before and places you never thought you would see. Each vehicle is different. Some are wider while others are smaller, yet they all are detailed to the last skid mark they leave. There are parts in every scene (except in odd jobs) where you must hit three stunts in a row, afterwards you get a nomination. The problem is that most of the environment gets recycled in some movies.
SOUND: A
The music was always different in the game. It is pretty hard to notice, but the music was hardly similar in every level I played. You have a stunt coordinator in the game who tells you what to do for each stunt. Sure his voice is just repeated through out the whole game, with the expectation of when you start a new movie and scene, but he has plenty of zingers with whoever you work with. The directors are funny as well and go in place with whatever movie. For instance the director for Whoopin' and a Hollerin II is a complete redneck. Gun fire sounds as realistic as it could get, and explosions make a Ka-boom when necessary. I would suggest add different sound clips for the next version, but everything is great as it is.
GAMEPLAY: A
The game is very redundant. You are doing the same stunt constantly with some variation. Stuntman is fun for a few reasons. The scenes never tend to repeat themselves as you are always doing the same stunts with a different degree of difficulty. You change vehicles through out each movie. Each motorcycle, car, even eighteen wheeler operates differently. Some turn on a dime while others make it seem like your breaking speeds of 150 miles per hour. Each takes a little bit of getting used too. Plus each scene gets rated between one and five stars. One being you barely beat the level with five saying you managed to keep your string alive for the whole run. Stringing is doing stunts like getting close or grabbing air while constantly repeating it through out the scene. If you string a whole scene you get five stars. Stuntman hooked me on this simple aspect. I was unable to give multiplayer a try because no one was online in any game mode and I didn't realize it was multiplayer through one Xbox.
CONTROLS: B+
As I stated every vehicle takes time to get used to. That isn't as big of an issue of over turning and constantly running into rocks, walls, and whatever else the game throws at you. I found myself angry when certain stunts don't get used for a movie or two, then they are thrown at you. It makes it very difficult after not doing the stunt of awhile. After you learn how to two wheel in the game, it is not used for a little bit until later in the game. It is harder to keep the car on the wheels when you haven't done it in a while. I would hope next time around that the game is longer and has you doing a lot of the stunts you learn in each movie.
REPLAY: A
For all you that want a 100 percent with this game it is going to take awhile. I spent maybe three hours on the first movie getting five stars on all six scenes. It is very difficult, but at the same time rewarding to know you where able to complete a whole movie with actual stunts perfectly. Plus each time you five star a whole movie it is thirty gamer score points. The achievements in the game are not difficult to understand. Completing them is, so if you have the time to kill go and get this.
VALUE: A
Originally sixty dollars now twenty is shouldn't be that hard to buy this game. If you like to do things over and over again with a challenge then you should go grab this. The scenes are similar, but nailing everything down for a five star (or string it) rating will keep you going.
OVERALL: A-
Ross' BOTTOM LINE:
When I first played the demo I was hooked. I am slightly upset I wasn't able to play any multiplayer. My friend eventually got good enough at the game to string a scene which I found amazing because he would refuse to listen to me. Plug in your mike for the stunt coordinator to speak through that. I found it amusing and pretty cool. You can't talk back though and show how angry you are at him for telling you to do the most insane things though. Stuntman: Ignition is a great challenge. I would not recommend playing the first one though. I only got pass the scene in that. Most of the movies are rip offs of popular movies, such as James Bond and Batman. You will get a kick out of those.