There are two major things that have really caused me to loathe the Xbox 360. The first being the amazing Red Ring of Death (I'm up to 5 now) and the second being the broken DRM. Well as of today I'm only left with the RRoD because it turns out that Microsft has fixed the DRM. It might have taken 32 months since the console was released before this has happened but it working now.
from MajorNelson.com

Video: Xbox 360 Content License Transfer Tool on Xbox.com
The team is happy to announce that the Content License Transfer Tool (also know as the DRM Tool) is now available on Xbox.com. It's an easy process that has two parts: Transfer your licenses on Xbox.com, then download them manually on your console. I just ran through the process myself, and apparently I was a little promiscuous with regards to where I was purchasing content as you can see from the table below: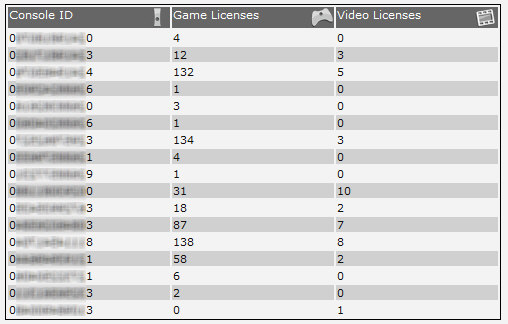 This shows you the console ID I made the original purchase on, as well what game and video licenses are associated with each console. You'll see a similar table as you go through the steps to migrate your own licenses.
So go now and fix your broken DRM. And if you want to know why this has bugged me so much, here is a picture of my licenses and the number of them.
Whats your count at?