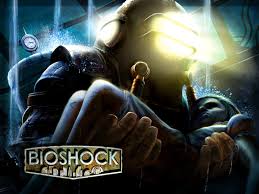 BioShock brings you into the world of Rapture the underwater world secretly built in 1946 by Andrew Ryan and is being released October 21 for the PS3.
But you may want to clear up some room on your PS3s hard drive because BioShock has a mandatory install that is just under 5GB.  This install will take about ten minutes.
BioShock for the PS3 will feature trophy support right out of the box, and it will include exclusive downloadable content, and have some puzzles that are more complex than the original game.
I enjoyed this game as I played it on the 360 already, but for the PS3 trophy hunters it is a must buy game, I think that you will truly enjoy the game play as well as the storyline.