By now most of you have seen the screen shots of Sony's Home. This seems to be their answer to Xbox Live's community functionality, and it's looking like it will finally become reality sometime late this year or early 2009.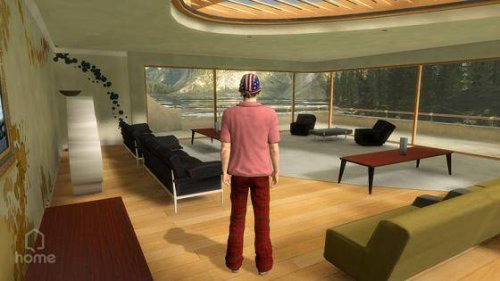 The problem is however, nobody really cares about Home any more. Home is basically Second Life on the PS3, and if any of you have ventured over to Second Life lately you will see that it's a shell of what it used to be in terms of popularity. The PS3's social community doesn't need a "Second Life" like experience. It simply needs an effective, fast XMB experience that connects its users. Sony thinks Home will do this, but it won't. Home will certainly have some followers and a small core group that will swear by it. Overall though the risk vs reward to Sony for Home isn't going to pay off as it stands now. Social Gaming is moving away from the "sim" like experience and is shifting into a more creative and dynamic experience.
There is a saving grace though.  If Sony is totally hell bent on creating some type of community enviornment with avatars then "Little Big Planets" Sack Boy can be their savior. I haven't always been the biggest fan of Sack Boy. OK, quite frankly I don't really care for LBP so my bias stems from there. That said, I do see the brilliance of the game and more importantly the icon that is emerging from it. Sack Boy should become Sony's Mario. He represents not only a fun and cute avatar that almost all can enjoy, but he also represents the very creative and dynamic experience that social gaming is moving towards. Sack Boy's popularity seems to have no ceiling at the moment. Given the crazy success he seems imminently to have, he feels like a shoe-in for the job of Sony mascot. Sony needs to embrace Sack Boy, and covet him like he is the second coming of their Lord Savior.
Re-vamp Home Sony, kill off the sim like avatars and go for the jugular with Sack Boy. Sack Boy should be the avatar for everything Sony does moving forward. Give him all the customization you already have via LBP, and give him a place to thrive in a LBP like "Home" world instead of this virtual real world you are so mistakenly drumming forward with. Let this new world be populated by Sack Boys all running around and frolicking together in fun environments that can still be created with the backbone of Home's concept of corporate sponsored enviornments.   Create a "Home" experience that people will actually want to come and enjoy.
Nobody wants to play reality Sony, but everyone wants to play with Sack Boy.