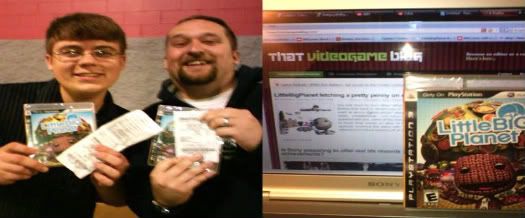 ********UPDATE********
LittleBigPlanet has seen it's first patch this morning for anyone with the game already (or at least the European version) taking the game to version 1.01.  It appears the song in question is still there, we're assuming they've removed, censored or looped around the troublesome content, though. That leaves me with one question. If they did send out a patch to remove the song or whatever it is they did, then Why didn't they just send out a patch to remove the song/fix it instead of recalling the game??
Let me know what you think in a comment below.
************************
That's right, according to thatvideogameblog.com, they were able to pick up a copy of LittleBigPlanet at their local Wal-Mart at midnight! It seems like Wal-Mart and Target 2 of the biggest retailers, have LittleBigPlanet still on their shelves and up for sale regardless of the recall. If you are a LBP fan, I suggest you stop what you're doing right now and head over to your local Wal-Mart or Target and check if they haven't pulled them off the shelves, or if they haven't sold out!
It is said that the author's PSN ID (DeltaP42) tag already has LittleBigPlanet trophies on it, go check them out!