Want to download a picture of you Xbox 360 Avatar?  Well just put up in the P*N Forums is an application made by member, jfrankmod.  This application, once downloaded and unzipped, will allow you to enter your, or other gamertags, hit the "search gamertag" button and the gamer's avatar will appear.  There is also a "download avatar picture" option that will store a picture of said avatar anywhere you would like.
The interface is very basic and looks like: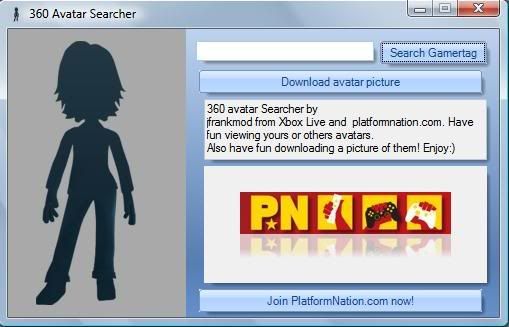 All you have to do the start viewing avatars is:
Download the 360 Avatar Searcher Application (right click and save as…)
Unzip the above file
Run the 360 Avatar Searcher.exe program
Enter your, or your friend's, gamertag and press the "Search Gamertag" button
Once the avatar is displayed you can click the "Download Avatar Picture" button
When the "Save as…" Dialog Box appears enter the filename you would like to store the avatar picture as (BE SURE TO ADD THE ".jpg" FILE EXTENSION!)
Open and Photoshop to your liking
Here is my avatar in all its glory:
Post up a link of yours in the comments below!
Also included in the app is a button that when clicked will take you to the registration page for the Platform Nation Forums.  If you are not part of the great community here at P*N this is the perfect time to click that button and join!
P.S… also in jfrankmod's forum post it was mentioned that if this is not working for you for any reason you may want to try updating you .NET Framework at this link:                                      3.5 .NET Framework