I think it's safe to say that Bethesda Softworks is at the forefront of Western RPG development. From the early years of Arena and Daggerfall, to the critically acclaimed Morrowind and Oblivion. And with the acquisition of the Fallout license, Fallout 3 is latest and possibly greatest game we've seen from the developers.
What fans are waiting for now, and have been since 2006, is the next game in the Elder Scrolls series. A release date is unknown as of yet, but the developer has previously stated that the next Elder Scrolls will be a launch title for the next Xbox console. Whether this is the case or not, we'll have to wait and see. But for now, let's look at the pro's and con's of previous games, and see what The Elder Scrolls V will possibly, and hopefully bring.
More Customisation
In Oblivion you could customize your character in some detail, but alot of people want more. All people of the same race kind of looked very similar, but I think more in-depth changes will be made available.
Not just character customization, but also the ability to forge your own weapons and armor would be a nice addition. We have seen this is available in Fallout 3, but I think in the next Elder Scrolls the ability to choose design and look of custom weapons and armor will be there as well.
More Varied World Design
If we go back to Morrowind, you will remember one minute you'd be in the swamps of the Bitter Coast, then maybe the lush area of the Ascadian Isles, next roaming the Grazeland plains, perhaps ending up in the desolate baron wastes of Red Mountain. You see, The Elder Scrolls III had much more varied landscapes, adding to the sense of exploration.
I can see this coming back to The Elder Scrolls V, as in Oblivion aside from the snowy mountains all of the areas looked the same. To a keen eye, there are obviously some differences, but many people don't just want a different texture on the ground, and different tree types. We don't want a meadow around every corner. We want to feel like we're traveling a distant land with as much variety in it's landscape as is in the cultures of Tamriel itself. Fallout 3 isn't an example of this, obviously, but that's about context.
Richer A.I. System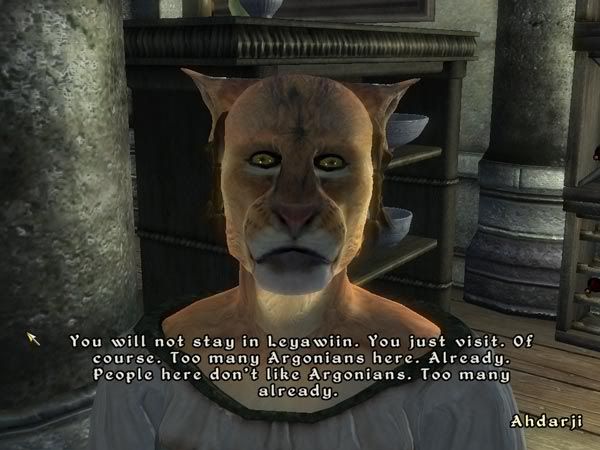 From Mass Effect, to Fable II, to Fallout 3, we have seen games are now using much better A.I. in many ways. To improve on Oblivion, we need to look at Fallout 3. The Good/Evil routine will be much more focussed in Elder Scrolls V, making for better NPC interaction depending on the players choices and actions. A.I. will be much less scripted, and more dynamic.
We will have speech choices, and dialogue trees like we've seen in Mass Effect and Fallout 3, making for better immersion and a deeper connection between the player and his/her character. We really will be shaping the world around us this time round.
And bring us more voice actors, much more.
Leveling/XP System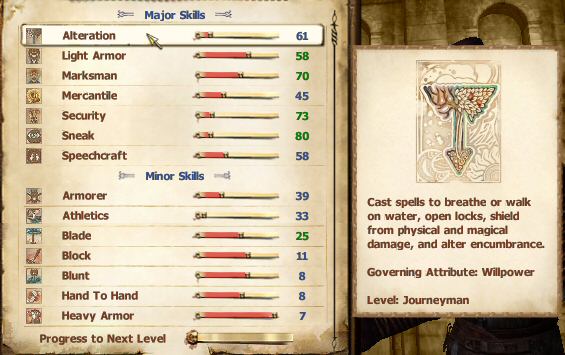 A return to Morrowind will suffice for this I think. Fallout 3's leveling system is Fallout, not the Elder Scrolls, but in Oblivion there were alot of faults. I think we need more varied skills, like Morrowind. Oblivion was dumbed down in that Blade encompassed many different weapon types. I want to see the return on Long Blade, Short Blade etc.
On the subject of leveling is also the world itself. I think after Fallout 3 Bethesda will go back to Morrowind, making the world static, and the character evolving around it; not the other way around. I want to be able to know I can't handle a certain region of the world yet, go away and train, then come back and kick some ass.
Magic/Combat
Magic and combat was a vast improvement from Morrowind in some senses, but there are still alot of things that can be improved. The magic fighting system was very well done, but there seemed to be a lack of spell variety. Bethesda will hopefully bring back depth to this.
Combat was also a major improvement, but it became old and "samie" very quickly. Hopefully we'll see more moves, perhaps even fighting styles depending on the race, height, and skills of your character.
More More More
We want more weapons, more armor, more clothing, more horses, more people; more everything.
We want cities to feel alive, think Assassin's Creed. I want crowds of people roaming the streets, and to feel the bustle of the Market towns.
Morrowind had a lot more weapons and armor, and different variations of those. Elder Scrolls V will bring a lot more to the table I'm hoping. And what people have wanted for a long time, cloaks. PC players have had MOD's to add these, but I want to see cloaks and capes in the game itself.
Final Say
If we look at Fallout 3, and the interviews surrounding the game, Bethesda have said they have learned from many of their mistakes with Oblivion. When you play Fallout 3 this is obvious. So I think it's safe to say that The Elder Scrolls V will be everything we hope it will be. And if they improve on everything that was wrong, we really will be living another life in another world.