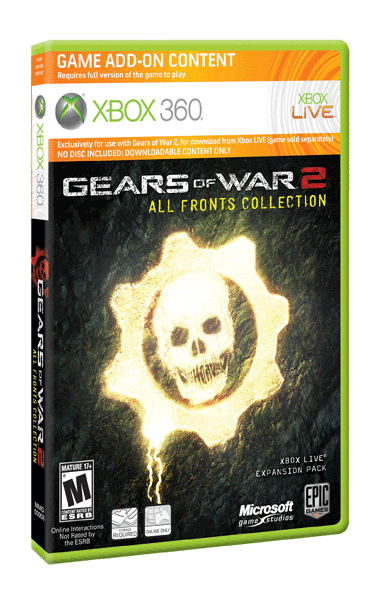 That's right Gears of War 2 will be getting assaulted with the new Gears of War 2: All Fronts Collection this summer, that will include Gears of War 2 Dark Corners game add on and all the other previously released map packs thus far and will include seven new multiplayer maps and will be available July 28th for retail purchase at the cost of $19.99.
The All Fronts Collection will contain the Flashback Map Pack, the Combustible Map Pack, the Snowblind Map Pack and Gears of War 2:  Dark Corners a game add that is a deleted campaign from the game named Road to Ruin, plus the new map pack, a custom Live theme, a Gears poster and a strategy guide.  Not a bad deal if you haven't purchased any of the DLC as of yet and if you have Microsoft has the answer you can purchase Dark Corners add on from Xbox Live Marketplace for 1600 Microsoft points.
Take a look at the link below for more details about the new maps and the game add on.  This pack by far is the best I have seen for Gears and can't wait to get a look at some of the new screens from the deleted campaign and the new multiplayer maps.