DENON is celebrating their 100th Anniversary and they are inviting you our faithful readers to be part of the celebration.   So what does the celebration entail you may be asking?  Well if head over to their Facebook page they are currently having a contest were you could enter to win a pair of the headphones so follow the Facebook link and learn how to enter for you chance to score a set of DENON headphones.  What's a better way to celebrate than with something free.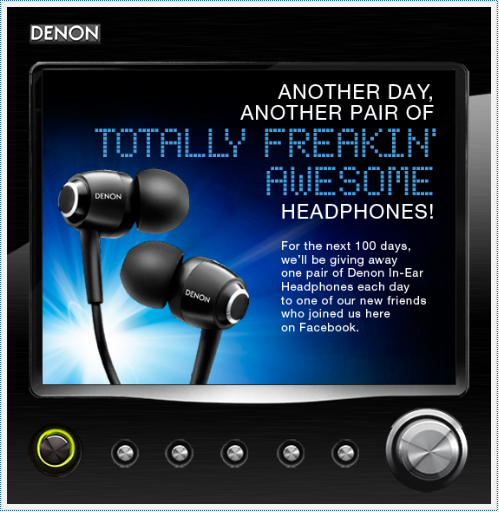 Here are some of the 100th Anniversary products available from DENON and for a description of these awesome products here is a link for you to check out all the goodness DENON has to offer.
The PMA-A100 is an integrated amplifier and the fruit of many years of Denon audio technology development. To further improve the expressiveness of its sound quality, the amplifier inherits the UHC-MOS Single Push-Pull output circuit and features a newly engineered construction, forming a solid foundation for a pure, clean sound.
The AVR-A100 is a 9.2 Channel A/V surround receiver that not only offers DENON LINK 4th, high-bit i/p conversion and scaling, but also features Advanced Connectivity, Network Audio, Photo Streaming and an interface that enhances your level of entertainment pleasure. The AVR-A100 Receiver also includes a special edition block condenser, a higher-grade speaker terminal with a gold plated in/out, and cast iron footing to stabilize sound quality.
A special addition to the Anniversary Collection is the AH-A100 Headphones. Strikingly housed in a piano mahogany finish, the AH-A100 includes a high-grade driver unit for superior sound quality, newly designed skin-soft ear pads and headband, a luxurious storage case and wiping cloth.
Be sure to follow DENON on Facebook and Twitter and be sure to check back here at Platform Nation as we will bringing you updates and more about DENON'S 100th Anniversary.
Be Sure to visit DENON's US website.
Be sure to Shop DENON.